Intercom for Doctors Surgery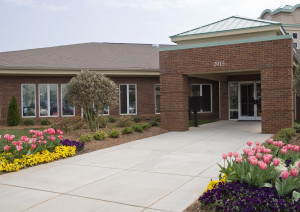 "Intercom for Doctors Surgery provides communications with reception, nurses or to request the next patient"
A intercom for doctors surgery system can make:
Calls to Waiting Room
Call to Reception
Room to Room
Group Call
All Call
Emergency (Crash, Panic) Call
External Door Bell (option of Door Release)
Option Back Ground Music
Description
Description
However large or small your doctor's surgery, the
Pulse
Intercom for Doctors Surgery can provide a comprehensive intercom system suited to the doctor's surgery environment. Offering the facility for multi-room communications the system allows for each unit in the building to be connected up, ensuring that staff and patients can be reached at all times. Stations can be installed in the reception area, treatment rooms, and pharmacy, and linked to the public address speaker in the waiting room, enabling the different parties involved to request patients or make announcements as and when necessary.The easy set-up for the
Pulse
Intercom for doctors surgery means there's no need for complex central-exchange based systems. Instead, clients can simply start off with two stations, and as their needs expand, they can easly add to the surgery IT network, In the waiting room, speakers can be mounted in a suspended ceiling, or on the wall, and can be adapted to larger rooms by adding further speakers. An audio feed can be applied to the speakers from a music system or CD player to allow patients to listen to music as they wait for their appointments. When the receptionists or doctors need to communicate with the patients, their announcements override the music.The versatility of the
Pulse
Intercom for Doctors Surgery enables doctor's practices to expand their intercom system with ease as the surgery grows, minimising the additional costs and stresses that expansion can bring.A further bonus is that when the reception area is closed, people can still be given access to the building via an out-of-hours reception station, which can be installed at the client's request. When the doorbell is rung, a notification is sent to the stations set up to receive it, and the door can be opened remotely, adding greater flexibility to surgery access.
Pulse
Pulse IP Intercom System
Simple to integrate and expand, the Pulse IP Intercom System is Based on STENTOFON's IP technology, Pulse Intercom System offers High Definition voice quality, simple installation and ease of use.
Pulse Intercom System allows up to 16 IP & VoIP intercom stations per system
No central server equipment required
Auto discovery of IP stations
System setup using web browser in less than 10 minute
AlphaCom
AlphaCom and AlphaCom XE Intercom Exchange
The AlphaCom and AlphaCom XE Intercom Exchange is the most powerful and flexible communication platform on the market enabling your security system to act in the most effective and fastest possible way during critical situations.
Features:
Analogue or IP Stations
Multiple Exchanges can be linked
One site or Multiple sites
Interface to CCTV, Telephone
Medical Department
For more information
Contact intercom specialists Ring UK today for professional advice about which system you should go for. We will assess your requirements and research and explain all the options available to you to help you or your client choose a perfect Intercom system that meets your needs.