Recording Intercom Conversation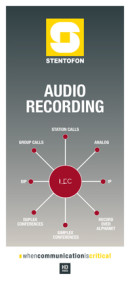 "The STENTOFON Recording Software provides to option for Recording Intercom Conversation, a fully-featured IP based audio recorder for the AlphaCom audio server"
for use with AlphaCom IP systems
Features
SIP-based active recording for AlphaCom XE
Easy installation
Records conversations connected to AlphaCom
Records conversations, group/all calls, and conference calls
Compatible with AlphaCom E and XE
Enterprise, Standard and Lite versions
RSA digitally signed audio and metadata
Fully featured audio playback client
Search on call metadata
Description
Recording Intercom Conversation Description
The STENTOFON Recording Software provides to option for Recording Intercom Conversation, a fully-featured IP based audio recorder for the AlphaCom audio server.. The solution is able to record calls from all types of terminals connected to AlphaCom: analogue intercoms, IP intercoms, analogue phones, and IP phones.
For each conversation that needs to be recorded, AlphaCom sets up a SIP call session to the STENTOFON Recording Software. The call session includes metadata about the parties in the conversation and the conversation type – conversation, group/all call, conference. This mode of operation allows for the
STENTOFON Recording Software to be located anywhere in the IP network, and even to receive call recording data from multiple AlphaCom audio servers at the same time.
AlphaCom Range