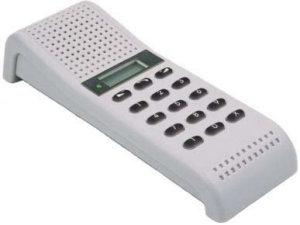 "The Ring Master AA711 master station is the successor of AA701 with a totally new re-design"
The 

Pro700 Intercom System is no longer manufactured, a small range of spares are available, if you have a station which needs repair we can still make repairs as long as we can get the parts.
Features
Loud-speaking hands-free communication
Programmable features and extension numbers
Total privacy, telephone mode
Internal 1 watt amplifier
Adjustable speaker volume in 16 levels with two keys
An external loudspeaker can be connected to the stations
8 digit LCD display shows caller identification and message
Built-in relay for door-lock control or optional warning
Desk or wall using wall bracket
Description
Description Ring Master AA711
The Ring Master AA711 master station is the successor of AA701 with a totally new re-design in high-grade, light grey impact resistant ABS plastic with satin finish. New features of the AA711 include a built-in relay for door lock control or optional warning, and connection for an external digit '6' or '9' call switch.

The station has a full 15 button keyboard and display. It can call to, and receive calls from all stations in the system, and perform all-call and group-call, emergency call and silent alarm. The LCD display shows calling and feature status as well as absence information. A tri-color LED adds status information for the user. Subscriber number and station features are programmed by switches inside the station.

Pro700 is a decentralized system which does not require any central unit, each station is microprocessor controlled, providing an extensive range of standard and programmable features. Pro700 is a fully electronic intercom system for loud-speaking hands-free duplex communication. The system is designed for up to 40 subscribers connected in star, parallel or loop on a four-wire bus. An entertainment program can be distributed on a separate two-wire line to all stations. Stations support external loudspeakers for increased sound power. AA711 is prepared for use as an operator or guard station in a Call Annunciation System (CAS) where up to 37 Call-in stations can report to 1-3 operator stations.
Specification
Specification
| Part Number: | AA711 |
| --- | --- |
| Size (WxHxD): | 68 x 225 x 45 mm |
| Weight: | 0.3 kg |
| Systems: | Pro700 |
| Accessories: | Requires separately ordered station cord |
Datasheet
Pro700 Useful Links
For more information
Contact intercom specialists Ring UK today for professional advice about which system you should go for. We will assess your requirements and research and explain all the options available to you to help you or your client choose a perfect Intercom system that meets your needs.