Heavy Duty Sub Intercom Station – 1007083000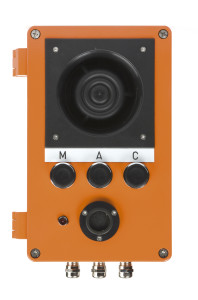 "This 1007083000 Heavy Duty Sub Intercom Station is a waterproof model designed for humid, dirty and outdoor conditions"
for use with analogue AlphaCom Intercom System.
Features
Programmable call button, simplex and cancel buttons
Waterproof and dustproof casing in orange aluminium alloy
Noise cancelling dynamic microphone along with red microphone live lamp
Built-in loudspeaker and possibility to connect an external loudspeaker.
Built-in 10W (8 Ohm) VOX operated power amplifi er for external loudspeaker
Screw terminals for easy connection of installation cables
Freely programmable extension number
Description
Heavy Duty Sub Intercom Station – 1007083000 Description
This 1007083000 Heavy Duty Sub Intercom Station is a waterproof model designed for humid, dirty and outdoor conditions. It can operate in an ambient temperature range from -20oC to +50oC (-4oF to +122oF). The station consists of a rugged waterproof and dust proof casing (IP65) of orange silumin. The front panel is hinged to the back casing to allow easy access during installation and service. The station has screw terminals with labels and the three glands give waterproof and dust proof connection of installation cable and loudspeaker wires. The station is equipped with a noise cancelling microphone as well as a 20 Ohm loudspeaker. The volume is adjustable with a potentiometer located inside the casing. An external 20-70 Ohm speaker can be connected or, alternatively, connect an 8-20 Ohm speaker for use with the built-in 10 W (8 Ohm) VOX operated power amplifier. The power amplifier requires a separate 12 VAC / 2 A power supply. The external speaker must be placed at least one meter away from the station. The station is programmable for ermanent private mode and is also prepared for connection of an external handset unit.
Specification
Specification
Size (W x H x D): 160 x 260 x 92 mm
Weight: 1.1 kg

Datasheet
Datasheet
AlphaCom Range
Industrial Station Range
Intercom Station Range
For more information
Contact intercom specialists Ring UK today for professional advice about which system you should go for. We will assess your requirements and research and explain all the options available to you to help you or your client choose a perfect Intercom system that meets your needs.