Industrial Master Station – AA703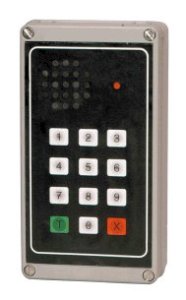 "The AA703 Industrial Master Station is a processor-controlled master station with full keypad"
for use with Pro700 intercom system.
Features
Loudspeaker hands-free
Built-in loudspeaker and microphone
Surface mounted on the wall
Full keyboard, folio type
Splash-proof for dirty in/outside conditions
Flame retardant chip-resistant,durable bayblend plastic case
Easily programmable via internal switches
Built-in relay for control of camera, door lock, etc
External 20 Ohms loudspeaker can be installed
Optional 10 watts amplifier FC740 for external loudspeaker
Description
Industrial Master Station – AA703 Description
The AA703 Industrial Master Station is a processor-controlled master intercom station with full keypad, used in the Pro700 "all-to-all" intercom system that has no exchange unit. The AA703 is surface mounted and is designed to be splash proof for use in humid and dirty conditions. The cabinet is made of flame-retardant and shock-resistant Bayblend plastic. The station has a built-in loudspeaker and microphone and is wired in parallel via a 2-pair cable in a star or bus configuration. A third pair can be installed for a program distribution channel for music, etc. The AA703 has a duplex speech option, while simplex speech can be controlled by pressing/releasing the T-button. The station is easily programmable through internal switches. The station has an internal 3W amplifier. The volume of the internal loudspeaker can be adjusted incrementally via internal switches. An external 20ohm loudspeaker may also be connected. An optional 10 W amplifier, FC740, may be plugged in on top of the internal PCB. If required, the FC740 also enables using the external loudspeaker both as loudspeaker and microphone (talk-back function).
The Industrial Master Station AA703 has a built-in relay which can be used for controlling cameras or door locks. The keypad is normally used for selective dialling to all stations, from call numbers 10 to 49. A direct-call function can be programmed to single-touch keys for the following number ranges: 10-19, 20-29, 30-39 or 40-49.

Specification
Specification
Size (W x H x D): 124 x 244 x 63 mm
Weight: 0.8 kg

Station Datasheet
Station Datasheet
Pro700 Useful Links
Industrial Intercom Station Range
For more information
Contact intercom specialists Ring UK today for professional advice about which system you should go for. We will assess your requirements and research and explain all the options available to you to help you or your client choose a perfect Intercom system that meets your needs.