TCAS-2 Turbine Compact Analogue Standard-2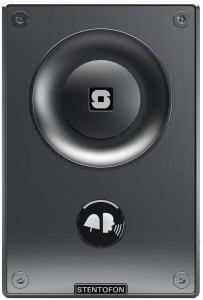 "The TCAS-2 Turbine Compact Analogue Standard-2 is an Analogue station from the Turbine range with one call button"
for use with analogue AlphaCom system.
STENTOFON Audio Presence – crystal clear audio
Analogue MEMS microphone
Unique 3D speaker grille design
Scandinavian functional design
Dirt, dust and water resistant – rating IP-66
Operating temperature range -25° to 70° C / -13° to 158 ° F
Robust die cast aluminium frame – rating IK 10
Stainless steel front plate with one button
Ideal for Building Security and Public Environments
Description
TCAS-2 Turbine Compact Analogue Standard-2 Description
All analogue stations in the STENTOFON Turbine series offer stunning audio quality. AlphaCom's advanced switching technology, loud volume, wide frequency range and our unique 3D speaker grille design are some of the factors contributing to this. We also put great pride into selecting the very best components like the new analog MEMS microphone for the stations.
STENTOFON Turbine comprises a wide range of stations for many different purposes, with some features in common. They are all designed for the most demanding environments where communication is critical. All electronics are covered by a 3 mm thick, die cast aluminum frame. This frame is even further reinforced by a faceplate in either stainless steel or Plexiglass. All stations are dust proof and water resistant, both when flush and surface mounted – with ingress protection rating IP-66. All stations are vandal resistant with poke protection, tamper resistant fastening and impact resistance ratings between IK 08 and IK 10.
The station can be placed up to 4 km from the AlphaCom server/exchange without the need for any local power source. The station uses the conventional 4-wire interface, receiving both power and audio in the same cable. To provide maximum availability the station comes with advanced supervision functions. The station line test will detect whether any faults are in the network or station electronics. In addition the station supports tone test, i.e. testing the complete transmission path including microphone and speaker. The status of the stations is reported to AlphaWeb as well as to 3rd party management systems using SNMP, Syslog or Microsoft OPC .
STENTOFON Turbine follows in the grand tradition of Scandinavian design appreciated by designers the world over. The station's strong identity lies in the speaker grille. It is not only designed for aesthetic reasons, but also
for audio quality and protection – with form following function. And there can be little doubt as to its function:loudspeaking hands-free communication.
Specification
Specification
See Datasheet
Station Datasheet
Station Datasheet
Accessories
| Order Number | Description |
| --- | --- |
| 1008140010 | TA-1 Turbine Compact Onwall Box |
| 1008140020 | TA-2, US 2 Gang, Double Depth -3.5\", Back Box, Masonry |
| 1008140050 | TA-5, Bracket for US 2 Gang Back Box |
| 1072160000 | TURBINE ADAPTER PLATE |
| 1008140180 | TA-18 Turbine Compact Flush-Mount Back Box |
| 1008140140 | TA-14 Microphone Windscreen for TCIS/TCIV |
AlphaCom Intercom Range
Turbine Station Range
Intercom Station Range
RingUK
RingUK
Here at RingUK we have a considered approach to Specifying Intercom Systems, based on methodically detailing every aspect of each client's needs. It is then and only then that we are accurately able to design an intercom system that fulfills the exact specifications of the client.
Over the years Specifying Intercom Systems this exacting approach has enabled us to develop a solid aggregate understanding of each sector whose intercom requirements we deal with. In drawing upon this we are able to quickly develop a blueprint that we then tailor to the specifics of each client's brief. The efficacy of this procedure means we are very rarely unable to overcome unforeseen problems – if ever.
You cannot buy experience, and it's our experience in Specifying Intercom Systems that makes us great at adapting and thinking laterally to devise the best intercom solution for our clients. This often means taking a standard intercom system and integrating it with specialized design features to create a setup that is equal in its uniqueness to the exacting needs of the client.
This is all part of an overall standard of service that we feel is unavailable elsewhere within our industry. We place a premium on total customer satisfaction, which is why we are always looking to extend and improve our product range, and to maximize value. Our position within the industry in terms of our size, reputation and our relationship with suppliers means we are able to cut costs without cutting corners.
With many years of experience in the broadcast and communications industry, RingUK have built  up an impressive portfolio of products and knowledge from leading  manufacturers.
Distributor, Partner & Resellers For:
RingUK specialises in assisting buyers, specifiers and end-users in the process of recommending and purchasing specialist communications equipment for various commercial applications including:
Our specialist communications advice team has over 25 years of experience, specifying and commissioning communications systems that meet the objectives of our clients. Our service centres on enabling our clients with the information necessary to make an informed decision when investing in suitable communications equipment.
For more information
Contact intercom specialists Ring UK today for professional advice about which system you should go for. We will assess your requirements and research and explain all the options available to you to help you or your client choose a perfect Intercom system that meets your needs.