VoIP Intercom Module TKIS-2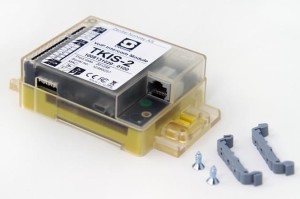 "The STENTOFON VoIP Intercom Module TKIS-2 utilizes the latest technology to create unparalleled audio quality"
for use with AlphaCom IP  & Pulse IP systems
Highlights
STENTOFON Audio Presence – crystal clear audio
DIN-rail mountable, clips included
Add VoIP/CCoIP to your parking solution, cash point, vending machine, et al
Build your own IP Intercom station or help point
Make your own 10W IP Speaker
Control relay and I/Os over IP
Supports AlphaCom, Pulse and SIP (for use with any IPBX)
Supports a wide set of IP networking standards
Remote software upgrade, configuration and monitoring
Operating temperature range -40° to 70° C / -40° to 158 ° F
Powered from the IP network cable using Power over Ethernet (PoE)
Advanced audio technology like automatic gain and volume adjustment, background noise cancellation, open duplex, etc.
Description
VoIP Intercom Module TKIS-2 Description
The STENTOFON VoIP Intercom Module utilizes the latest technology to create unparalleled audio quality. Some of the many features include: HD voice quality, Open Duplex, Active Noise Cancellation, Automatic Volume Adjustment, MEMS microphone support, and a 10W Class D amplifier.
These features, in conjunction with STENTOFON's 65+ years of experience with acoustic technology are only a few of the many factors that make our audio quality second to none.
Specifications
| AUDIO | |
| --- | --- |
| Noise cancelling - suppression of musical noise | YES |
| Noise cancelling - suppression of static noise | YES |
| Noise cancelling - suppression of rapidly changing noise | YES |
| Codecs | G.711, G.722, G.729 |
| Frequency range, G.722 Codec | 200 Hz – 7000 Hz |
| Audio technology | Modes: Full open duplex, switched open duplex, Adaptive jitter filter, Local tone generator, Audio mixing - 3 channels, Sound level detection (scream alarm), Automatic gain control (microphone), Automatic volume adjustment |
| Internal speaker amplifier | 10 W class D |
| Supported microphone technologies | Digital MEMS, omnidirectional microphone. Electret omnidirectional microphone |
| Recommended loudspeaker impedance | 8 ohm |
| HARDWARE | |
| --- | --- |
| Ethernet connector | 1 x RJ 45 |
| All other connectors | Tool less, spring loaded, vibration proof terminals |
| General inputs and outputs | 6 (configurable) |
| Outputs | 12mA as LED drivers |
| Change-over relay (NO+NC+COM) | Max: 250VAC/220VDC, 2A, 60W |
| Power options | PoE and or external power supply |
| PoE (power over Ethernet) | IEEE 802.3af standard, Class 0 (0.44W to 12.95 W) |
| External power supply | 24 VDC (16 – 48 V) |
| Power consumption | Idle 1.8W, max 12W (depending on volume) |
| Audio line out / induction loop signal | 600 Ohm |
| NETWORKING AND PROTOCOLS | |
| --- | --- |
| Protocols | IPv4 (with DiffServ), SIP, TCP, UDP, HTTPS, TFTP, RTP, DHCP, SNMP, STENTOFON CCoIP® , NTP |
| LAN protocols | Power over Ethernet (IEEE 802.3 a-f) Network Access Control (IEEE 802.1x) |
| Management and operation | HTTP/HTTPS (Web configuration) DHCP and static IP + STENTOFON Pulse™. Remote automatic software upgrade. Centralized monitoring |
| Advanced supervision functions | E.g. network test, tone test, status reports |
| SIP support | RFC 3261 (SIP base standard), RFC 3515 (SIP refer), RFC 2976 (SIP info) |
| DTMF support | RFC 2833, 2976 (SIP info) |
| ENVIRONMENT AND COMPLIANCES | |
| --- | --- |
| Operating temperature range | -40° to 70° C / -40° to 158 ° F |
| Storage temperature range | -40° to 70° C / -40° to 158 ° F |
| Relative humidity | < 95% not condensing |
| EMC | CE and FCC Part 15 |
| Certificates | UL 60950-1, cUL 60950-1, CB to IEC 60950-1 |
| OTHER SPECIFICATIONS | |
| --- | --- |
| IP address information | Speaks IP address after system boot (requires connected loudspeaker) |
| Country of manufacture | Poland |
| Dimensions (HxWxD) | 32 x 117 x 71 mm |
| Weight | 0.1 kg / 0.2 lbs |
| Encapsulation material | ASA plastic |
| DIN-rail clips | Wago 209 (included) |
Station Datasheet
Station Datasheet
Turbine Station Range
Intercom Station Range
Intercom Product Range
RingUK
RingUK
Here at RingUK we have a considered approach to Specifying Intercom Systems, based on methodically detailing every aspect of each client's needs. It is then and only then that we are accurately able to design an intercom system that fulfills the exact specifications of the client.
Over the years Specifying Intercom Systems this exacting approach has enabled us to develop a solid aggregate understanding of each sector whose intercom requirements we deal with. In drawing upon this we are able to quickly develop a blueprint that we then tailor to the specifics of each client's brief. The efficacy of this procedure means we are very rarely unable to overcome unforeseen problems – if ever.
You cannot buy experience, and it's our experience in Specifying Intercom Systems that makes us great at adapting and thinking laterally to devise the best intercom solution for our clients. This often means taking a standard intercom system and integrating it with specialized design features to create a setup that is equal in its uniqueness to the exacting needs of the client.
This is all part of an overall standard of service that we feel is unavailable elsewhere within our industry. We place a premium on total customer satisfaction, which is why we are always looking to extend and improve our product range, and to maximize value. Our position within the industry in terms of our size, reputation and our relationship with suppliers means we are able to cut costs without cutting corners.
With many years of experience in the broadcast and communications industry, RingUK have built  up an impressive portfolio of products and knowledge from leading  manufacturers.
Distributor, Partner & Resellers For:
RingUK specialises in assisting buyers, specifiers and end-users in the process of recommending and purchasing specialist communications equipment for various commercial applications including:
Our specialist communications advice team has over 25 years of experience, specifying and commissioning communications systems that meet the objectives of our clients. Our service centres on enabling our clients with the information necessary to make an informed decision when investing in suitable communications equipment.
For more information
Contact intercom specialists Ring UK today for professional advice about which system you should go for. We will assess your requirements and research and explain all the options available to you to help you or your client choose a perfect Intercom system that meets your needs.