STENTOFON IP Vandal Substation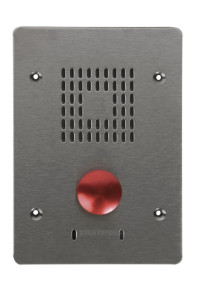 "The STENTOFON IP Vandal Substation is tough, durable and resilient, and designed for use in the harshest of environments"
for use with AlphaCom & Pulse IP systems.
Features of the STENTOFON IP vandal substation
Designed to deliver CCoIP® – Critical Communication over IP
Vandal resistant flush-mount design
Design in stainless steel (A304) to withstand corrosion
One vandal proof direct call button
Superb audio quality through wide bandwidth codec and high quality, high output power amplifier
Integrated Web server
Remote software upgrade, configuration and monitoring
Line monitoring
Possible connection to external IP video camera
One relay output for door lock control or flash strobe light
External call button option
Description
STENTOFON IP Vandal Substation Description
The STENTOFON IP Vandal Substation is tough, durable and resilient, and designed for use in the harshest of environments. The station is typically used as a communication, information or emergency point and connects directly to the IP network making it easy to deploy – anywhere and at any distance. Designed for CCoIP® the station offers a set of critical communication features such as integrated firewall, group call, call priority and over-ride, to name just a few. This enables you to deliver instant, efficient and secure voice and data services in an IP environment. The station provides superb wideband audio quality. If even higher audio volume is required, it is possible to interface the unit to an external power amplifier. The station has one relay and one logical output. These outputs can, for instance, be used to open a door through a connected relay. The operation of the outputs is programmable and controlled by the AlphaCom E exchange. To provide maximum availability the station comes with advanced supervision functions. The station line test will detect if there is any faults in the network or station electronics. In addition the station support tone test, testing the complete transmission path including microphone and speaker. The status of the stations is reported to AlphaWeb as well as to 3rd party management systems using SNMP, Syslog or Microsoft OPC.

Specification
Specification
Size (W x H x D) in mm: 114 x 160 x 63 mm
Weight: 0.8 kg
Datasheet
Datasheet