Intercom Wall Substation – 1007046000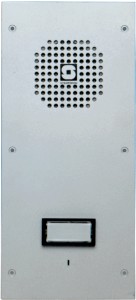 "This 1007046000 Intercom Wall Substation is a weather-resistant model designed for both indoor and outdoor conditions"
for use with analogue AlphaCom system.
Features
Large call button for instant contact with a freely programmable extension number
Possibility to include facility boards for opening the door
Rugged front plate of anodised brushed aluminium
Built-In 63 Ohm / 1W loudspeaker
Adjustable loudspeaker volume
Excellent sound quality
Description
Intercom Wall Substation – 1007046000 Description
This 1007046000 Intercom Wall Substation is a weather-resistant model designed for both indoor and outdoor conditions. It flush or surface mounts on the wall and back-boxes are available for this purpose. In addition to the AlphaCom and AlphaCom M systems the station can be used with the former TouchLine and TouchLine Compact systems. The station's call button is typically programmed to call a predetermined extension number. It may also be programmed to activate a chime signal to a group of stations. The station may be equipped with facility boards to allowing opening of the door from and indoor master station. The station is delivered with an 0,3 m cable with a 6-pin Hirschmann plug for connection to a Hirschmann wall socket. A Modular Jack plug on the station end gives quick and easy connection to the station's circuit board. 2-pair 0,5 mm2 twisted telephone cable is required between the exchange and the station. The maximum distance is 1,4 km (4600 feet) with 0,5 mm2 cable. Greater distances is possible by using heavier wires. The station is equipped with an electret microphone – which automatically adjusts to the audio level – and a 63 Ohm / 1 W loudspeaker. The loudspeaker volume is easily adjustable with a screwdriver using the potentiometer on the station's printed circuit board.

Specification
Specification
| | |
| --- | --- |
| Part Number: | 1007046000 |
| Size (WxHxD): | 125 x 280 x 53 mm |
| Weight: | 0.6kg |
| Flush Back Box: | 1000602000 |
| Surface Back Box: | 1000603000 |
| Systems: | AlphaCom XE |
Station datasheet
Station datasheet
AlphaCom Range
AlphaCom XE Intercom Exchange
The AlphaCom XE Intercom Exchange is the most powerful and flexible communication platform on the market enabling your security system to act in the most effective and fastest possible way during critical situations.
With AlphaCom XE audio servers, flexibility is key. You can have just a few or thousands of users spread around different locations. Thanks to its open, modular design and scalable architecture, AlphaCom XE has the flexibility to grow with your business and adapt to your long term needs. The system can be tailored to support applications of almost unlimited specificity and complexity.
STENTOFON's CCoIP® (Critical Communication over IP) implies the employment of Voice over IP applications required in critical situations. AlphaCom XE is designed with CCoIP incorporation which ensures the delivery of instant and secure voice and data services. The AlphaCom XE system provides carrier class system availability and protects resources in an IP environment by using embedded IP security mechanisms. The main security mechanisms used are restricted management access, separate management interface, internal firewall, integrity check (MD5), virtual LAN (IEEE 802.1Q) and network access control (IEEE 802.1X).
Features:
Analogue or IP Stations
Multiple Exchanges can be linked
4 Exchange sizes cover all requirements

AlphaCom XE1 – Supports 552 IP Intercom Stations, Energey Saving with a Power Consumption of Max 4W
AlphaCom XE7 – Supports 552 IP intercom stations and 36 analog intercom stations with SIM card based software configuration and disaster
AlphaCom XE20 – Supports 552 IP intercom stations and 102 analog intercom stations with SIM card based software configuration and disaster
AlphaCom XE26 – Supports 552 IP intercom stations and 138 analog intercom stations with SIM card based software configuration and disaster

One site or Multiple sites

Interface to CCTV, Telephone

Audio Recording
Wall Intercom Station Range
Intercom Station Range
RingUK
RingUK
Here at RingUK we have a considered approach to Specifying Intercom Systems, based on methodically detailing every aspect of each client's needs. It is then and only then that we are accurately able to design an intercom system that fulfills the exact specifications of the client.
Over the years Specifying Intercom Systems this exacting approach has enabled us to develop a solid aggregate understanding of each sector whose intercom requirements we deal with. In drawing upon this we are able to quickly develop a blueprint that we then tailor to the specifics of each client's brief. The efficacy of this procedure means we are very rarely unable to overcome unforeseen problems – if ever.
You cannot buy experience, and it's our experience in Specifying Intercom Systems that makes us great at adapting and thinking laterally to devise the best intercom solution for our clients. This often means taking a standard intercom system and integrating it with specialized design features to create a setup that is equal in its uniqueness to the exacting needs of the client.
This is all part of an overall standard of service that we feel is unavailable elsewhere within our industry. We place a premium on total customer satisfaction, which is why we are always looking to extend and improve our product range, and to maximize value. Our position within the industry in terms of our size, reputation and our relationship with suppliers means we are able to cut costs without cutting corners.
With many years of experience in the broadcast and communications industry, RingUK have built  up an impressive portfolio of products and knowledge from leading  manufacturers.
Distributor, Partner & Resellers For:
RingUK specialises in assisting buyers, specifiers and end-users in the process of recommending and purchasing specialist communications equipment for various commercial applications including:
Our specialist communications advice team has over 25 years of experience, specifying and commissioning communications systems that meet the objectives of our clients. Our service centres on enabling our clients with the information necessary to make an informed decision when investing in suitable communications equipment.
For more information
Contact intercom specialists Ring UK today for professional advice about which system you should go for. We will assess your requirements and research and explain all the options available to you to help you or your client choose a perfect Intercom system that meets your needs.