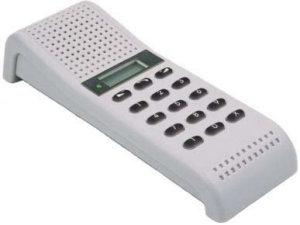 "The Pro700 Intercom System range is packed with lots of the features that you would expect to find in the higher-end intercom systems of other manufacturers"
Description
Installation
General Installation Information
Stations
Up to 20 stations can be connected in one system.
A maximum of 16-20 stations is recommended.
Station connection
Desk-top master station AA711 is connected to wall sockets via station cords and RJ45 connector.

Various types are available

All other stations are connected with screw terminals inside the station.
Power supply
The power supply output voltage must be between 12 and 27 VDC.
All stations are connected to the power unit via the installation cabling.
The power current capacity depends on the system size.

LA617 18VDC/1A units should be used in systems with max. 5 stations.
LA618 18VDC/4A units should be used in systems with max. 20 stations. The output is adjustable between 13,5 and 18V
LA925 27VDC/5A units should be used in systems with long cable runs and max. 25 stations.

Maximum distance on a 0,6 mmØ /24 AWG wire between any station and a power unit is:

12 V 100 meters (300 ft.)
18 V 300 meters (1000 ft.)
24 V 500 meters (1600 ft.)

A system can be powered with more than one unit to give a decentralized solution for large installations.
Battery backup
12 or 24 Volt batteries can be used as emergency backup power.
Adjust the power supply to act as a trickle charger

12 V battery LA618 to 13,5 V
24 V battery LA925 to 27,2 V
Installation cable
2 pairs 0.5 or 0.6 mmØ (24 AWG) twisted telephone cable should be used for call and power.

One extra pair is required when Program Distribution (music) is required.

If the cable has to pass close to radio aerials or other interference sources, each individual pair in the entire installation cable must be screened.
A cable of good quality and low capacitance should be used.
Maximum cable length
The total cable run in a system is limited by a mutual cable capacitance of max. 87 nF.
Standard quality cable: 120 nF/km max. length: 700m (2100 ft)
High quality cable: 47 nF/km max. length: 1700m (5100 ft)
Cable layout
All stations are normally connected to the system power supply in parallel. Clusters of stations may have their own local supplies.
As all stations are connected in parallel, the system cable layout may be star- bus- or loop connected, or any combination.
Star configuration
The stations are cabled directly to the power unit which is used as a central distribution point.
Bus configuration
The stations are connected in parallel along one cable run.
The system power should be connected to a central point of the cable.
Loop configuration
The stations are connected in parallel along one cable run.
The system power should be connected where the majority of stations are located.
Considerations
Power supply
The power supply must be wall mounted and located in an area with adequate ventilation.
The temperature must be between 0 – 35oC (32 – 95oF)
The relative humidity range of 30% to 90 % must be maintained.
Installation
Do not install power units or stations in an area near electrical noise sources, including equipment such as heavy motors, welders, dimmers, radio transmitters etc.
Do not run the installation cable parallel to, or near power cables supplying voltage to such equipment.
If the cable passes such equipment the entire installation cable must be screened (each individual pair).
Note that screened cable has a much higher capacitance which will reduce the max. total cable mass
Pro700 Useful Links
Alternative Intercom Station Range
Alternative Intercom Products
RingUK
RingUK
Here at RingUK we have a considered approach to Specifying Intercom Systems, based on methodically detailing every aspect of each client's needs. It is then and only then that we are accurately able to design an intercom system that fulfills the exact specifications of the client.
Over the years Specifying Intercom Systems this exacting approach has enabled us to develop a solid aggregate understanding of each sector whose intercom requirements we deal with. In drawing upon this we are able to quickly develop a blueprint that we then tailor to the specifics of each client's brief. The efficacy of this procedure means we are very rarely unable to overcome unforeseen problems – if ever.
You cannot buy experience, and it's our experience in Specifying Intercom Systems that makes us great at adapting and thinking laterally to devise the best intercom solution for our clients. This often means taking a standard intercom system and integrating it with specialized design features to create a setup that is equal in its uniqueness to the exacting needs of the client.
This is all part of an overall standard of service that we feel is unavailable elsewhere within our industry. We place a premium on total customer satisfaction, which is why we are always looking to extend and improve our product range, and to maximize value. Our position within the industry in terms of our size, reputation and our relationship with suppliers means we are able to cut costs without cutting corners.
With many years of experience in the broadcast and communications industry, RingUK have built  up an impressive portfolio of products and knowledge from leading  manufacturers.
Distributor, Partner & Resellers For:
RingUK specialises in assisting buyers, specifiers and end-users in the process of recommending and purchasing specialist communications equipment for various commercial applications including:
Our specialist communications advice team has over 25 years of experience, specifying and commissioning communications systems that meet the objectives of our clients. Our service centres on enabling our clients with the information necessary to make an informed decision when investing in suitable communications equipment.
For more information
Contact intercom specialists Ring UK today for professional advice about which system you should go for. We will assess your requirements and research and explain all the options available to you to help you or your client choose a perfect Intercom system that meets your needs.